Are you battling sleep apnea?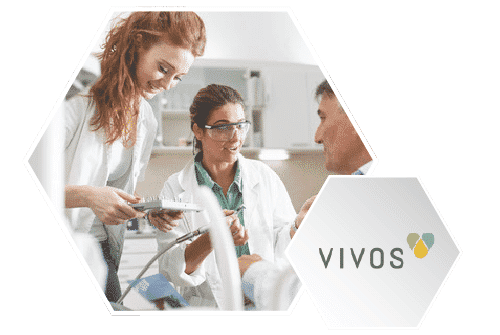 To treat your sleep apnea, we here at our Houston sleep clinic would collaborate with other specialists as part of the Vivos network to create a comprehensive approach to your treatment. Teamwork is vital since sleep apnea and other sleep-related difficulties often exist alongside other medical issues.
We realize that a health concern in one part of the body may contribute to a concern in another part of the body. That's why we strive to unearth every factor that is contributing to your sleep apnea. Only then can we begin to get an overview of your health and begin to draft a plan to put you on a solid path to wellness.
We firmly believe in treating each patient as a unique individual so there is never a cookie-cutter approach to our healthcare. Each case stands on its on merit. We diligently work to make sure that our doctor-patient interactions are respectful, dignified, and reassuring.

Sleep Apnea Patient
I didn't even know I had sleep apnea until Dr. Hedge asked me a few questions based on his observations. We did an at home sleep test (which was very easy to do) and found that I was stopping breathing 16 times each hour. No wonder I woke up tired and had bags under my eyes. His therapy has changed my life. I wake up ready to roll now!

Sleep Apnea Patient
I was diagnosed with sleep apnea years ago. My doctor put me on a CPAP. That is one of those those snorkle things that blows air in your lungs. I guess it worked, but I hated it. Dr Hedge offered to make me an appliance to move my jaw slightly forward allowing me to breath well while sleeping without the CPAP. I LOVE it! Thank you Dr. Hedge

Sleep Apnea Patient
I had sleep apnea. I wore a CPAP and hated it. I wore an appliance that held my jaw forward. Didn't want to wear it every night but it worked. Dr Hedge suggested making a new set of appliances that would permanently change my mouth, tongue, and airway. He expanded my mouth (which actually improved my appearance). I now breath well and get a great uninterupted night of sleep.
Dr. Tom Hedge DDS
Dr. Hedge is nationally recognized not only for excellence in clinical programs, but for sound business practices that make full use of the newest technologies in dentistry.
How we treat Sleep Apnea?
Together we treat the entire patient. Doing so makes it easier for our Houston sleep practitioner, Dr. Tom Hedge, to contribute his particular expertise that will mesh with your overall health strategy. You'll no longer have to worry about receiving advice from one doctor that contradicts the direction from another doctor. Our doctors share rather than compete.
Each clinician on the team has the training and qualification to identify and treat sleep apnea. Dentists, orthodontists, oral surgeons, and others participate in an integrated approach to tacking sleep problems.
We believe that well-informed patients are more likely to take an active role in their health program so we work hard to develop our teaching skills. We want you to return home from our sleep center understanding the cause of your breathing condition and the strategy to improve it.
Despite the widespread existence of sleep apnea, few people are aware of the serious health risks associated with the condition, including heart disease. Too many people wrongly believe that sleep apnea is only an annoyance.
Imagine the difference it would bring to people, not just in Houston but around the world if they learned that their sleep problems were causing or contributing to their other health issues. Those health concerns could include, but aren't limited to, depression, chronic allergies, hyperactivity, anxiety, chronic fatigue, hypertension, diabetes, fibromyalgia, obesity and migraines. Think of the more hopeful lives, happier families, and improved communities that sleep apnea suffers could enjoy if they only knew treatment was available.  
It's estimated that there are millions of people suffering from sleep apnea who aren't even aware they have the condition. In some cases, certain skeletal structures of the head can predispose people to sleep apnea. Yet, without that knowledge, people who are susceptible continue their lives, accepting their breathing difficulties as normal. 
We're part of a growing global movement to bring awareness to sleep apnea and make people aware of the proven methods available to treat it.
We also feel that it's important that we help people to understand that they have the power to help ease their sleep apnea by making certain lifestyle changes. Losing weight often has an immediate effect on sleep apnea. Other habits to drop include abusing alcohol and drugs and relying on sleep medicines.
Our sleep apnea doctors routinely tap into the collective mind of today's leading practitioners in the Breathing Wellness movement, and their education never ends. For instance, Vivos Therapeutics created the Institute for Craniofacial Sleep Medicine for Pneumopedics and Craniofacial Epigenetics. It offers post-graduate continuing education for clinicians who want to deepen their understanding of breathing wellness.
We believe in staying up to date and using the latest helpful tools. For example, we use specialized computer software developed specifically for breathing wellness to help us make a detailed diagnosis and formulate an effective treatment plan for you.
Vivos has also developed its own line of oral appliances that corrects jaw alignment, often a key contributor to sleep apnea. Meanwhile, Vivos continues to make investments to fund the development of the next generation of oral appliances, medical devices, and nutritional supplements.
The company also funds clinical trials to test the latest medical developments and protocols. These investments in scientific research and development are Vivos' way of making sure that we are always advancing in the fight against the scourge of sleep apnea.